General Clutch Shoes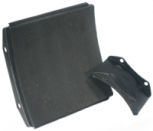 Pneu‐Grip's General Duty friction pad assemblies are integrally molded to high tolerances for smooth, even engagement. The non-asbestos material is specially formulated to resist fade and to be less aggressive giving longer life to pads as well as drums. Lining is offered individually as well as in sets or kits with shoe pins and locking wires. As with all Pneu‐Grip repair parts, clutch shoe pads are available immediately from our warehouse.
Heavy Clutch Shoes

Our heavy duty friction shoe assemblies start with extruded aluminum which, unlike shoes that are molded, yield a stronger, high quality product. In the extrusion process, aluminum is forced under pressure resulting in a sturdier shoe free of defects and giving a new definition to "Heavy Duty". The organic friction material provides for a more even coefficient of friction over a greater range of temperatures.
Marine Clutch Shoes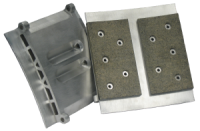 Fully ventilated Marine Duty clutch shoes are designed for the most severe clutching and braking operations and sufficient for even induced draft assemblies typical of controlled-slip reversing and marine braking. To grip the inner drive or brake drum, a high friction composite lining is riveted to the aluminum shoe. Pneu‐Grip recommends keeping spare lining, rivets, pins, locks and complete friction shoe assemblies at all times.